Breather Eyelets
The Breath Eyelet produced by Baxmann provides more comfort and safety for the user, its application is perfect for lines of adventure shoes and different types of mattresses.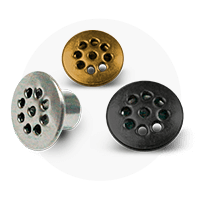 Types of Breather Eyelets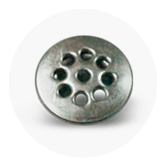 Description
The Breather Eyelet allows for greater ventilation in shoes and also in mattresses, this solution is perfect for reducing the accumulation of moisture and the proliferation of fungi. With a wide variety of models and more than 30 finishes, the eyelets for ventilation bring a differential to your collection, highlighting and durability. The manufacturer of Eyelets for Breathers, Baxmann, stands out for its dedication to producing metallic components with quality, beauty and functionality.
Finishes for Breather Eyelets

Nickel Platted

Golden

Wine

Painted

Old Silver

Graphite

Polished Aluminum

Nickel

Coppered

Medium Green

New Gold

Old Gold

Brass Platted

Old Gold Epoxy
Request a Quote